N/A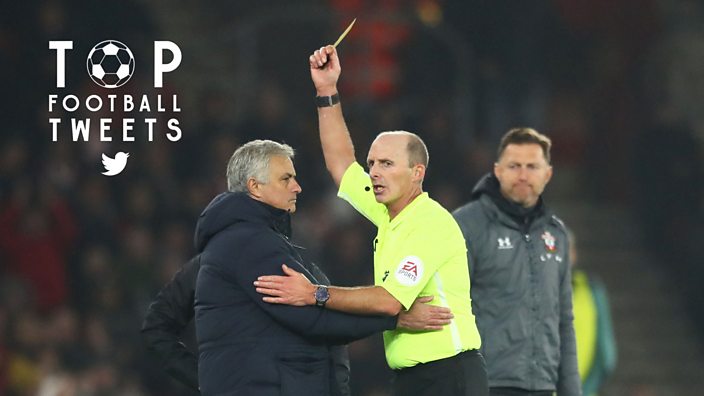 Getty
Is the honeymoon period over at Spurs already?
Meanwhile, Dele Alli wins the decade glow up
Welcome to a brand new decade in which anything is possible. Except catching Liverpool at the top of the Premier League table, apparently.
With the 2020s barely a day old, we've already been treated to some quality football on a marathon opening day of the year.
Here's what people are talking about.
1) The camera adds 10 years
They say a week is a long time in football but how about 10 years?
A dramatic 5-4 win over Birmingham last week meant Leeds kept a rather strange record intact: they have finished each of the past four decades on top of the table.
Perhaps even more impressively, they've done it in four different leagues - although admittedly it's only three different tiers, what with the old Division Two eventually becoming the Championship after a brief stint as Division One.
A New Year's Day draw with second place West Brom means they are still in control of things in the Championship.
We have to admit, it does feel like a lot of teams ended 2019 a little jaded, worn out from the chaos of the 2010s.
In particular, the so-called "Big Six" haven't really had the same dominance this season, with dropped points not being punished like they usually are.
One of the teams failing to capitalise on these mistakes are Tottenham Hotspur, who have found their honeymoon period with new manager Jose Mourinho to be surprisingly short.
But hey, it's still Mourinho so at least his antics off the field won't be boring, even if the product on the field is.
Mikel Arteta got his first win as Arsenal boss with a comfortable 2-0 victory over Manchester United, leaving Ole Gunnar Solskjaer's prospects at Old Trafford looking a little bleak.
At least the Gunners can learn something from their rivals about dealing with an inexperienced manager who used to play for the club.
He may not have been a success at Manchester United but David Moyes' second reign at West Ham went off to a dream start on Wednesday.
The Scotsman guided the Irons to their biggest Premier League win since 2007 as they hammered Bournemouth 4-0.
7) Sing when you're Inging
Another game, another goal for Danny Ings as the 27-year-old helped guide Southampton out of the relegation zone and into 12th.
Ings' total of 13 Premier League goals this season is second only to Jamie Vardy.
Another player enjoying themselves this season is Wolves winger Adama Traore, who finally appears to be living up to his huge potential.
9) That one's not a keeper
Things aren't going quite so smoothly for Claudio Bravo, however - the Manchester City goalkeeper failed to take advantage of Ederson's absence as he handed Everton late hope on Wednesday.
City fans will be hoping Ederson can return from illness quickly so he can get back to doing what he does best.
As for Everton, they are still getting used to things under Carlo Ancelotti, with everyone still learning their individual roles in the new regime.
With Liverpool going into Thursday's meeting with Sheffield United 10 points clear of second with two games in hand, everyone wants to figure out the Reds' secrets.