Lockdown update: All you need to know about new measures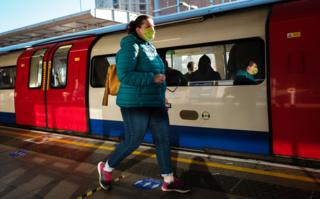 Lockdown measures are being eased across England after more than seven weeks of restrictions - but how could everyday life change?
Can I meet friends and relatives?
Two people from different households in England can meet in outdoor settings, such as parks, as long as they stay more than 2m (6ft) apart.
The government has said it will impose higher fines for people who break social distancing rules.
Can I exercise more?
The rules have been relaxed so people in England can now spend more time outdoors "for leisure purposes". That includes sunbathing.
There is no limit to the amount of exercise allowed.
Activities such as golf, angling and tennis are permitted, but only alone, with members of your household or with one other person from another household. If you do exercise with someone you don't live with, remember social distancing rules still apply.
Playgrounds and outdoor gyms, where there is a higher risk of close contact and touching surfaces, remain shut.
Households are also able to drive to other destinations in England - such as parks and beaches. But they should not travel to Wales, Scotland or Northern Ireland, where people are still being told to avoid any travel which is not essential.
Meanwhile, it's hoped that cultural and sporting events in England can take place behind closed doors for broadcast from 1 June.
Should I go back to my workplace and how will I get there?
People who can work from home in England should continue to do so "for the foreseeable future".
But the government says those who can't work from home should travel to their work if it is open. However, they should avoid public transport for social distancing reasons - and walk, cycle or drive if at all possible.
Those who do use public transport are being told to expect social-distance queuing and to wear face coverings.
Sectors "allowed to be open, should be open", the government adds. These include food production, construction and manufacturing.
Workplaces should follow new guidance on making them safe for staff. This includes frequent cleaning of surfaces and equipment, staggering arrival and departure times and, for office workers, holding meetings remotely and avoiding the use of hot desks.
The issue of how businesses can secure personal protective equipment without competing with the NHS has raised concerns.
What if I go into other people's homes to work?
If you're a cleaner or plumber - and need to enter someone else's home for your job - you are allowed to return to work.
Employers have a duty to reduce workplace risk to "the lowest reasonably practicable level".
Unless there is a direct risk to household safety, no work should be carried out in the home of someone shielding or isolating because of Covid-19 symptoms.
In homes where someone is clinically vulnerable - for example, where there is a person aged over 70 - face-to-face contact should be avoided, and strict hygiene rules followed.
Can I move home?
House moves and viewings can resume again in England.
Potential buyers and renters will be able to visit show homes and view houses on the market to let or buy.
Moving home will also be allowed again, as will visiting letting and estate agents.
Anyone who has already bought a new home can visit it to prepare it for moving in.
What about childminders, nannies and nurseries?
After initial confusion, childminders and nannies in England have now been told they can return to work - but only if they're caring for youngsters who come from the same household.
During lockdown, registered childminders have either been closed or providing care for vulnerable children or children of key workers.
Pre-school nurseries in England are expected to start reopening from 1 June.
When will schools and universities return?
Primary school Reception, Year 1 and Year 6 classes are expected to reopen from 1 June in England.
It's so the youngest children, and those preparing for the transition to secondary school, have maximum time with teachers.
The government says its ambition is for all primary school children to return to school before the summer for a month if feasible - but to support social distancing there will be class sizes of no more than 15 pupils.
Also from June, it says secondary schools and further education colleges should prepare for face-to-face contact with Year 10 and 12 pupils who have key exams next year, in addition to their "continued remote, home learning".
Teachers' unions have called for "clear, scientific published evidence" that schools are safe to re-open.
Meanwhile, there is uncertainty over whether students will be able to go to university in person in September or whether they will be taught partially or completely online.
When can I go High Street shopping again?
From 1 June at the earliest, but only if the government's five tests to ease restrictions are met. Non-essential retailers will be able to open in phases if they can follow the social distancing guidelines.
Hospitality and personal care venues, such as hairdressers, will not be allowed to open at this stage, because there is a higher risk of virus transmission.
Garden centres in Wales are already back open and they can now re-open in England too. Decisions are awaited in Scotland and Northern Ireland.
Some DIY stores have already reopened - but they are accepting card payments only and have shorter trading hours.
What about hairdressers, pubs and cafes?
On 4 July at the earliest, if the five tests to ease restrictions are met.
From then some remaining businesses - including pubs, restaurants, hairdressers, hotels, cinemas and places of worship - can open, as long as they can meet social distancing measures.
There will be exceptions for indoor public spaces where people will struggle to practise social distancing, such as beauty salons. These may only be able to open ''significantly later", depending on when the rate of infection goes down.
What about flying into and out of the UK?
International travellers should check the FCO travel advice, which currently advises against all but essential journeys.
A two-week quarantine period for people arriving in the UK will be introduced "as soon as possible".
People arriving from the Republic of Ireland will be exempt, as will travellers from France. Other people with jobs that support national security and critical infrastructure requirements will also avoid quarantine. Number 10 says further details and guidance will be announced "shortly".
If international travellers cannot say where they plan to self-isolate for 14 days, they will have to do so in accommodation arranged by the government.
The trade body Airlines UK says the introduction of a quarantine-period would, in effect, "kill air travel".
All passengers are advised to remain 2m (6ft) apart wherever possible. They should also consider wearing gloves and a face covering - which some UK airports and airlines have made compulsory.
Heathrow boss John Holland-Kaye says social distancing at airports is "physically impossible". EasyJet has said it plans to leave middle seats empty, but Ryanair boss Michael O'Leary says this would be "idiotic".
Ryanair has also said it plans to restore 40% of flights in July, subject to travel restrictions being lifted and safety measures being brought in at airports.
Easyjet told the BBC that it "does not currently have a date for restarting flights," but said it was keeping the situation under review. "We remain hopeful we will be flying over the summer," the company added.
But the Health Secretary Matt Hancock told ITV's This Morning programme that "big, lavish international holidays" were unlikely this summer.
Content available only in the UK