Main content
20 reasons to feel cheerful about 2020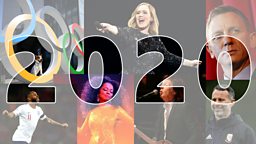 A new year (and a new decade) means new TV shows to binge on, new movies to go and see, new books to immerse yourself in, and new sporting events to invest all your hopes and dreams in.
To mark what looks like being an exciting year ahead, here's a rundown of just 20 things to look forward to in 2020.
1. Radio 2 has another exciting year ahead
Radio 2 has loads of big treats in store over the next 12 months, some of which we've already announced. We're at the London Palladium in February and March, bringing you some spectacular shows, including a 50th Anniversary celebration of Simon & Garfunkel's classic 'Bridge Over Troubled Water', where contemporary rock and pop stars will recreate the duo's legendary songs, track-by-track.
You can also expect the return of our 500 Words short story competition for kids aged 5-13 in January, another Festival In A Day in Hyde Park, preceeded by Proms in the Park, plus a new set of Funny Fortnight comedy specials, coverage from March's What's On Stage awards (you can vote for the Radio 2 audience award for Best Musical up to 16:59 on Monday 29 January) and much, much more.
Stay tuned!
2. Team GB will be going for gold again at the Olympics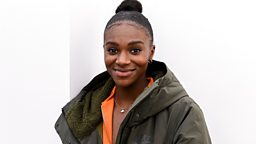 The 2016 Brazil Olympics was the most successful for Team GB since 1908, with 67 medals (including 27 golds) being picked up by our amazing athletes. In the 2016 Paralympics, we won a mammoth 147 medals across 19 sports. That's a lot to live up to, but in July 2020 we'll be going for gold again.
Tokyo, Japan is the host city, with 206 nations set to compete. Five new sports will be introduced to the Olympics: karate, climbing, surfing, skateboarding and baseball / softball. All eyes will be on the likes of Dina Asher-Smith (above) in the Olympics and Kare Adenegan in the Paralympics to help the UK improve on 2016's incredible tally.
3. Glastonbury is turning the big 5-0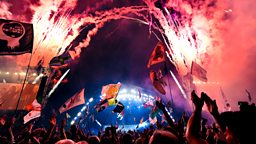 Glastonbury marks its 50th birthday in 2020 - and they're looking to go all out to celebrate. Taking place at its traditional home of Worthy Farm, Somerset from 24-28 June 2020, we already know that Beatles icon himself Sir Paul McCartney will be one of the headliners, with organiser Emily Eavis saying the booking was a "an absolute dream come true" and that "there really was no one that we wanted more for the 50th anniversary."
Who else can we expect to see? Well, Diana Ross and Taylor Swift are the only other acts officially confirmed so far. The Motown legend will follow in Kylie's footsteps from 2019 and perform in Glasto's Sunday afternoon 'Legend' slot, while Taylor will close the event with a Sunday night headline performance.
As for the rest, the remaining acts will probably be announced in March or April, with Emily stating that the remaining headliners will be a male, who hasn't previously appeared at the festival. We've also been told that the Other Stage will be topped by "Pyramid level headliners." Exciting stuff.
2020 is also the 50th anniversary of the legendary 1970 Isle of Wight Festival, widely regarded as one of the biggest music events ever, with over 600,000 attending. The line-up? Joni Mitchell, Miles Davis, The Doors, The Who, Jimi Hendrix, Leonard Cohen and more. Not bad, huh?
There will be plenty of other big festivals looking to bring their own stellar bills in 2020, starting with the recently-announced 6 Music Festival in Camden and the return of Latitude in Suffolk (featuring a BBC Sounds stage).
4. Bond is back (with a little help from Phoebe Waller-Bridge)
No Time to Die, which arrives on 2 April 2020, will be the 25th James Bond film, coming five years after 2015's Spectre (the longest wait for a Bond movie since the 90s). Cary Joji Fukunaga (True Detective, Jane Eyre) is directing, after replacing Danny Boyle, who quit the project.
Joining Daniel Craig in what looks to be his final outing as 007 will be Oscar winner Rami Malek as villain Safin, Captain Marvel star Lashana Lynch as Nomi, and Blade Runner 2049's Ana de Armas as Paloma. Léa Seydoux will return as Dr. Madeleine Swann, a role she portrayed in Spectre, while Jeffrey Wright makes a comeback as Felix Leiter (his first Bond film since 2008's Quantum of Solace). There'll be plenty of other familiar faces too, with Ben Whishaw, Ralph Fiennes and Naomie Harris all coming back.
Not much is known about the plot, but we do know that Fleabag creator Phoebe Waller-Bridge has been "helping out" with the script, becoming only the second woman to get a writing credit on a 007 movie. Meanwhile, Dua Lipa has been rumoured to record the Bond song this time round.
5. Game of Thrones fans may finally get to read The Winds Of Winter
When Game of Thrones, the much-loved TV show, came to an end in 2019, it's safe to say that fans were pretty divided on the final episodes, with some of the more disgruntled viewers even starting a petition to get the entire last season remade (1.8 million signees and counting). But fans may find comfort in the last two books from which the TV phenomenon was born, George RR Martin's A Song of Ice and Fire series.
The upcoming sixth book from the fantasy series, 'The Winds of Winter', will be the first published since 2011 and will see the plot deviate from that of its TV counterpart. In terms of when to expect the much-delayed book, Martin has resisted putting a definite release date on the novel, but wrote on his blog in May 2019 that The Winds of Winter should be ready by the next Con Zealand science fiction convention in summer 2020. He wrote: "I tell you this — if I don't have [the book] in hand when I arrive in New Zealand... you have here my formal written permission to imprison me in a small cabin on White Island, overlooking that lake of sulphuric acid, until I'm done."
While we await 'The Winds of Winter', 2020 looks set to be a spectacular year elsewhere for new fiction. The Radio 2 Book Club returns on Jo Whiley's show, featuring weekly discussions on new books and interviews with acclaimed authors. Some early 2020 page-turners that we can expect to get lost in include Abi Daré's debut novel 'The Girl with the Louding Voice', which follows the journey of a 14-year-old Nigerian girl who battles adversity and social norms to find her voice. There's also the new book from esteemed author Marian Keyes, 'Grown Ups', and the much discussed 'American Dirt' by Jeanine Cummins, which narrates a direct, personal experience of illegally crossing the US-Mexico border.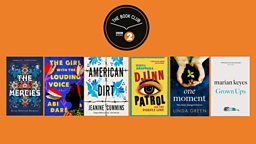 Radio 2's Book Club's first choices for 2020, L-R: 'The Mercies' by Kiran Millwood Hargrave, 'The Girl with the Louding Voice' by Abi Daré, 'American Dirt' by Jeanine Cummins, 'Djinn Patrol on the Purple Line' by Deepa Anappara, 'One Moment' by Linda Green, 'Grown Ups' by Marian Keyes
6. A new Adele album is round the corner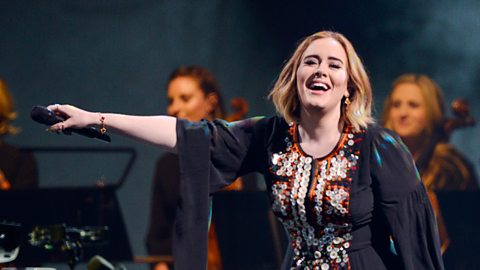 Showcasing her superstar status, Adele takes the Pyramid Stage by storm.
Adele fans have been hoping for a new album for a while now. Following reports that a record would be released in 2019 (which, as you may have noticed, did not happen), surely 2020 is primed for Adele return to the airwaves? Surely?! We don't know any concrete details about the record yet, but we shouldn't expect it to follow the numerics of her first three albums (which were titled '19', '21' and '25' respectively). Instead, her next record may be self-titled instead. "This is the last album after my age," the Tottenham singer told James Corden of '25' in 2016. "I believe in trilogies, yeah. The next one is just gonna be Adele."
Even if Adele's next album somehow doesn't come out in the next 12 months, we have plenty to look forward to: Pet Shop Boys will be back with new LP 'Hotspot' in January, Dua Lipa is readying a second album that's sure to turn heads, and Lady Gaga's next release is expected for 2020. "I'm pregnant with #LG6", she jokingly tweeted back in March 2019.
7. Doctor Who returns with Stephen Fry and Lenny Henry
After a year's break, it's good news for Doctor Who fans - the show returns in 2020, with Jodie Whittaker reprising her role as the Thirteenth Doctor for a second full series.
The 10-episode series kicks off with the first of a two-part special on New Year's Day 2020, titled 'Spyfall' (Bond parody, anybody?). Jodie Whittaker's Time Lord will be joined once again by companions Ryan (Tosin Cole), Yaz (Mandip Gill) and Graham (Bradley Walsh), while there will also be guest cameos throughout the series from Stephen Fry, Sir Lenny Henry, Robert Glenister (Hustle) and Goran Višnji? (ER). A new look version of the Cybermen has been spotted in the series trailer, while the Judoon, who debuted 13 years ago when David Tennant played the Doctor, have also been confirmed as returning. As yet, there's been no news on whether we'll see the Daleks, who last appeared in the New Year's Day 2019 special.
8. We might stand a chance in Eurovision this year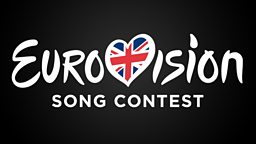 After poor Michael Rice finished in last position during 2019, the UK are planning a big shake-up for Eurovision 2020. It's been announced that industry experts at BMG music publishers will pick the UK act this year instead of a public vote. BMG have published recent hits by the likes of George Ezra, Lewis Capaldi, Jess Glynne and Mabel, surely reason for a bit of optimism this time round? 2020's Eurovision Song Contest will take place on 16 May in Rotterdam, Netherlands - and you will be able to follow all the action on Radio 2.
9. It's a landmark year for our favourite soaps
2020 marks the 35th anniversary of EastEnders and the 60th anniversary of Coronation Street, so you can imagine there'll be big plans to celebrate these milestones. Back in 2010, when EastEnders turned 25, the Walford soap aired its first-ever live episode which revealed the killer of Archie Mitchell and saw Bradley Branning fall to his death from the roof of The Queen Vic. EastEnders upped their game five years later to mark its 30th anniversary in 2015 with a whole week of live episodes. Corrie have also aired live specials for the 40th and 50th anniversaries - will they continue the trend in 2020?
What else can we expect? Well, without giving too much away, Corrie bosses are promising big twists and turns for resident bad guy Gary Windass. Meanwhile, all is quiet in terms of Albert Square rumours - for now...
10. There'll be more big new dramas to binge-watch
TV has been in rude health over the last decade, with the rise of streaming services providing more choice than ever before.
And there'll be plenty more TV to binge on in 2020. Like the next offering of Killing Eve, which was renewed for a third series before the second one even aired in the UK last year. There's a change of writer at the helm again too. After Emerald Fennell took over from creator and executive producer Phoebe Waller-Bridge for series two, this new series will see showrunner Suzanne Heathcote (whose previous writing credits include Fear the Walking Dead) taking up the reins. Waller-Bridge says: "We can sleep soundly knowing these characters are safe in Suzanne Heathcote's hilariously murderous hands."
BBC One's Line Of Duty looks set to return too, with Trainspotting star Kelly Macdonald appearing as a guest lead, following in the footsteps of Keeley Hawes, Thandie Newton and Stephen Graham. Macdonald will play Detective Chief Inspector Joanne Davidson, a "senior investigating officer of an unsolved murder, whose unconventional conduct raises suspicions at AC-12". As with Killing Eve, there's no firm premiere date for the new series of Line Of Duty just yet, we've been told to expect it back .
11. It looks set to be another classic year for reality TV
Meanwhile, if you're a fan of reality TV, it looks set to be another vintage year. Can't get enough drama from the Love Island villa? Good news, the show will return for two new series in 2020, with a special winter edition confirmed to start in January. Contestants for this winter offering won't have to cosy up with blankets though, as they'll be jetting to South Africa for the show. A trailer for the series featured an airplane flying a banner that read: "Do one, winter". The usual summer outing will follow later in the year.
All that, and usual suspects The X Factor and Britain's Got Talent have been commissioned for new series, while Martin Kemp has put his name in the hat for I'm a Celebrity 2020, having seen his son Roman come third in the jungle this year. Expect returns for The Apprentice and Strictly too, with big finales to round off the year.
12. There'll be a movie sequel for everyone
2020 will be a prime year for movie sequels, and it looks like there'll be something for almost everyone.
From kids films like Minions 2, Trolls: World Tour and The SpongeBob Movie: Sponge on the Run to long-awaited follow-ups in much-loved franchises like Ghostbusters 3, Legally Blonde 3, and Wonder Woman 1984.
Unexpected, but very welcomed, Keanu Reeves and Alex Winter are returning for Bill & Ted Face the Music, the third in the Bill & Ted franchise and first film in the series in 19 years, while Will Smith and Martin Lawrence will reunite for Bad Boys For Life. And how can we forget about Top Gun: Maverick? Yes, that's right Iceman, Tom Cruise is back in one of his most icon roles.
13. Elton John, Madonna, The Who and many other big name stars will be playing live in the UK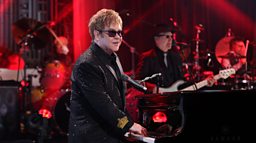 Some of the world's biggest artists are touring the UK in 2020, and in some instances it might be the last opportunity to see some of these acts on stage. Elton John's 'Farewell Yellow Brick Road' shows are a swansong on the great man's illustrious career, with 24 UK & Ireland dates concluding at London's o2 Arena on 17 December.
The world's first Whitney Houston hologram tour will also arrives on these shores from February to March. "Whitney is not with us but her music will live with us forever," says her former manager and sister-in-law Pat Houston.
All that, plus gigantic must-see shows from Madonna, The Who, Westlife, Celine Dion, Simply Red, and Craig David mean that you can spend countless nights at in-demand concerts.
14. Meanwhile, two classic movies are being turned into musicals
With Hamilton's London run extended to March 2020, musical buffs will soon be on the look out for the next big show to see.
Two big hits could come in the form of these classic films that have been adapted for the stage. Pretty Woman: The Musical opens at the Piccadilly Theatre in Soho, London on Valentine's Day (and running until 2021), with Bryan Adams penning the songs for this musical version of the Julia Roberts-starring 90s romcom.
Elsewhere, Back to the Future The Musical runs from February to May at Manchester Opera House. Olly Dobson (Matilda the Musical, Bat Out of Hell) will play Marty McFly, while Tony Award winner Roger Bart will portray Doc Brown.
15. Football's coming home (and to other cities...)
Euro 2020 kicks off in June, running through to July, taking place in a whopping 12 cities as a way of celebrating the 60th birthday of the tournament. As well as London, Glasgow and Dublin, matches will also be held in Amsterdam, Baku, Bilbao, Bucharest, Budapest, Copenhagen, Munich, Rome and Saint Petersburg. But that's not the only thing that'll be notable about Euro 2020 - it's also the first Euros with VAR, so you just know that's going to add some heightened drama.
England and Wales have already qualified - Gareth Southgate's team will looking to go one better than their World Cup 2018 display, where the Three Lions reached the semi-final, while Ryan Giggs' side will be hoping to replicate their heroics of Euro 2016, when they beat Belgium on the road to the semis. This time round, Wales will go up against Italy, Turkey and Switzerland in the group stage, while England face Croatia, Czech Republic and the yet-to-be-decided winner of a play-off match.
Any of Scotland, Northern Ireland and the Republic of Ireland could still be involved too, with play-off deciders taking place in March.
16. Normal People could be the big TV hit of the year
Sally Rooney's Normal People novel has been a massive literary success since it was first published in 2018. You've probably spotted it being read in coffee shops or on public transport, or have a friend that has recommended it to you, and now it's hitting our screens at some point in 2020.
The book, which follows the lives of teenagers Marianne and Connell as they grow up in Ireland, is being adapted into a 12-part drama series for BBC Three (also airing on BBC One), with Daisy Edgar-Jones and Paul Mescal in the lead roles.
17. Dickens is hitting the big screen
Charles Dickens classic David Copperfield has been adapted for film and TV a fair few times, including a 1969 version starring Ralph Richardson, Richard Attenborough and Laurence Olivier and a Christmas two-part special in 1999 with Maggie Smith, Dawn French, Bob Hoskins, that marked the acting debut of a certain Daniel Radcliffe (then just 10 years old).
But 2020's The Personal History of David Copperfield boasts an all-star cast to more than rival these, with Dev Patel (Slumdog Millionaire, Lion, Skins) playing the titular character alongside Peter Capaldi, Hugh Laurie, Tilda Swinton and Ben Whishaw. Comedy legend Armando Iannucci directs, with one early review saying of the film: "Everything rattles and zings like a pinball machine, and it's a bracing, entertaining, richly satisfying experience." That's quite the way to mark the 150-year anniversary of Dickens's death.
18. Sport Relief will be changing lives and breaking records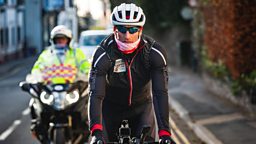 Sport Relief returns on Friday 13 March 2020, meaning some of your favourite celebs and people across the country will be getting their fitness game on for a good cause.
Welsh rugby star Gareth Thomas has already travelled 500 miles by bike to deliver the BBC Sports Personality of the Year trophy, and that's just the first of countless challenges taking place between now and March.
Back in 2018, Radio 2's Zoe Ball zoomed 350 miles in wintry conditions, from Blackpool to Brighton, for her 'Hardest Road Home' challenge, raising over £1 million, while in the same year Radio 1's Greg James had to deal with the 'beast from the east' during his Gregathlon challenge.
Not long to wait to find out what our presenters will be getting up to in 2020!
19. David Mitchell will play Shakespeare on stage
While there's no news about whether a fourth series of the BBC Two historical comedy will materialise, fans of Upstart Crow (which sees David Mitchell playing a bumbling version of William Shakespeare) will be treated to a brand new story from creator Ben Elton when the sitcom hits the West End.
The stage adaptation will see Mitchell reprise his role for a plot in which Shakespeare agonises over his next play. "I'm delighted to have the opportunity to bring history's most famous balding dramatist to the West End," Mitchell says. "Theatregoers can look forward to a comedy steeped in authentic Shakespearean ambience in every way apart from the smell."
20. And finally... we get an extra day!
Every four years it's a leap year, meaning in 2020 we get an extra day on Saturday 29 February. Think of the possibilities... one extra day to perfect a brownies recipe, one extra day to explore the local woods with your family, or one extra day to conk out on the sofa and get some much-needed peace and quiet. Either way, make the most of it!
And while your diary is open, jot this down: The Early May bank holiday has moved to Friday 8 May, to tie-in with the celebrations marking the 75th anniversary of VE Day, so it's even closer to the second May bank holiday, which remains on Monday 25 May.