Main content
Nine things we learned when Louis Theroux interviewed Helena Bonham Carter
In the third episode of Louis' lockdown podcast, Grounded with Louis Theroux, he speaks to award-winning actor Helena Bonham Carter. The film star discusses how she handles fame, why she lived at home until she was 30, what it's like being a woman in Hollywood and why toy guns were the solution to a tricky on-set relationship.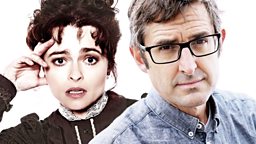 1. Having just finished filming The Crown, Helena's had a low-stress lockdown so far
Helena completed her scenes for series four of The Crown, in which she plays Princess Margaret, just before the lockdown began. She says it's been fine for her so far. Her biggest worry is her mum, who's actually enjoying life more now. Helena explains that "she's been ill, so before she felt somewhat deprived of a larger life. But knowing that everybody else is not having a very big life means that... she doesn't have any FOMO [fear of missing out]."
I did Fight Club and it was, 'Oh my god, she can be modern.'

Helena on being typecast
2. Helena went to the same school as Louis, but doesn't remember him
She does, however, remember his older brother, Marcel, who sat next to her in the choir. When Louis asked Marcel for his memories of Helena, he remembered her being "nice and approachable", "very beautiful" and "dressed like a pre-Raphaelite milkmaid". He also recalled how she wowed everyone with her portrayal of Eliza Doolittle in a school production of Pygmalion.
3. She didn't move out of her parents' house until she was 30
"I think I was a late developer for lots of different reasons," Helena says. She has since realised that, because her dad had become seriously ill, on some level she thought, "Oh, I've gotta make up for it. Do something diverting." As a result, she says, "I'd go off and do jobs, and then I'd come back and tell them all about it. So, I was very much married to my parents for a long, long time, and didn't really grow up."
4. Her role in Fight Club showed people that she "didn't exist in a different century"
"I was in a corset for years," Helena says. "And then I did Fight Club and it was, 'Oh my god, she can be modern.'" Overnight, she went from being "very uncool" to suddenly cool. "You're always at the mercy of what other people see you as, or don't see you as," she says.
5. Helena and Tim Burton coped with on-set tensions by firing foam guns at each other
While she was married to the director Tim Burton, Helena worked with him on several films. But it wasn't always easy. "We came a cropper on Sweeney Todd, particularly, because we both were out of our depth – I'd never sung before, he'd never done a musical." She says they ended up taking their stress out on each other and falling out. So, when they next worked together, on Alice in Wonderland, they found a novel way around it using foam missiles: "we'd shoot each other whenever we got annoyed, and then it was okay".
6. She didn't think the script for Planet of the Apes was very good
Helena remembers being on top of a mountain on the first day of shooting, standing with the film's producer as they watched the cast and crew walk up behind them. With so much money and talent being invested in the movie, she thought the script should be better. But when she suggested this to the producer, she recalls him replying, "[It] doesn't need to be, that's why we hire you. It's up to you to put some sense into it."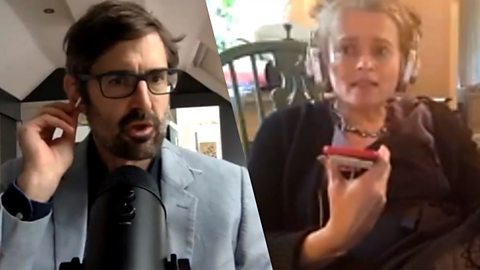 A clip from Grounded with Louis Theroux.
7. She hadn't heard about Harvey Weinstein being accused of sexual assault, but found his behaviour disturbing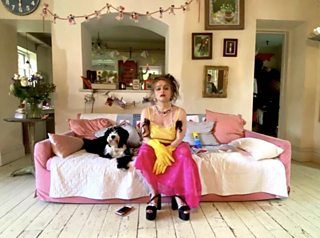 Helena at home
"I wasn't aware of him pursuing people against their will," Helena says. She recalls how the Hollywood mogul once tried to make a pass at her, but it ended when she said no and ran away. However, she says she did witness him behaving like a bully. "I saw him treat some people so badly, and there was no compassion there, and that was what disturbed me."
8. Aged 54, she's getting offered more interesting parts now than she ever has
Helena says this is because the scripts and the representations of women have got a lot better. "I think for every actor, whether you're male or female, the writing generally is much more pro-character," she says. "We're allowed to age, and we're allowed to not wear make-up. We don't have to be glamorous; we don't have to be sexual." Nevertheless, it is still "a very sexist profession".
9. She says the best way to cope with fame is to remember it's not really about you
As an actor, Helena says, you're always at the mercy of other people's opinions. "I think the most important thing is not to be convinced, or bewitched, or in any way influenced [by], or listen to other people's typecasting [of] you." Over time, she's learned not to take much notice of the public attention and commentary that comes with fame. "Part of the thing of being well known is you become very quickly aware that it's nothing really to do with you. It's all about what other people want you to be, or not."
More from Radio 4
Louis speaks to actor Helena Bonham Carter about her life and career.

Louis interviews the '80s music icon in lockdown.

The rival documentary makers discuss conspiracy theorists and surviving lockdown.